Prenatal Yoga is growing in popularity each year.
by Jessie Young-Novak
Practicing yoga is a unique and personal experience for every mama. Each pregnancy is different (like every baby!) and presents unique challenges. Practicing yoga every week in a new body as the baby grows and develops is a great way to continue practicing mindful awareness of the life you are growing and an opportunity to bond with baby. You're in this together after all! Yoga helps keep mom's body in a more balanced state.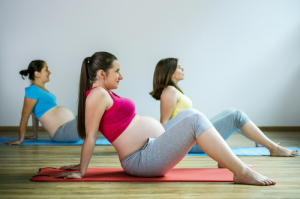 Physically, a prenatal yoga practice incorporates physical postures (asana) that build strength to carry the growing weight of baby, conditions the pelvic structure as a whole including developing elasticity of the pelvic floor, and continues to encourage good postural alignment throughout pregnancy, preventing low back, shoulder, neck, and hip pain. A prenatal yoga practice also includes practicing breathing techniques and mindfulness that keeps reminding mom's mental body to be present, listen and trust her body, move intentionally, breathe, and go with the flow. Not to mention, flexibility is a mind set that doesn't always come naturally to the modern woman. We have such high expectations for ourselves as moms, with a liberal application of judgment (not helpful!). The yogic philosophy to let go of attachments to outcome (aparigraha) can be a healthy reminder for creating mental space and help deal with the ups, downs, and surprises that come with birth and parenting (My personal mantra during my second pregnancy was to inhale peace, exhale expectation).
Prenatal yoga gives moms opportunities to practice using tools that make it easier to be patient as she  becomes familiar with an unfamiliar postpartum body. Postpartum bodies are as unique as the babies that birthed out of them. The type of delivery and birth experience is different for every mama and changes what each postpartum body needs or has capacity for.  Yoga provides space for healing- free of judgment, with patience and self care- no matter the individual birth experience.
Regardless of the prenatal exercise routine, a pregnant body has stretched to hold a baby for 10 months and the ligaments and connective tissue need rest and time to heal before beginning any physical activity. However, the pelvic floor and diaphragm can begin to work within the first couple days following the birth. The diaphragm, for example, has been compromised for months, getting pushed around by the growing baby, and returning to deep breathing can be very beneficial to rejuvenating and healing the postpartum body.  As simple as it sounds, deep breathing can be quite challenging, but if the mama has a regular prenatal yoga practice, the breath and diaphragm can "bounce back" more quickly.  Also, prenatal yoga students learn to trust their bodies and honor fatigue, rest, and ask for/accept help more readily from their community which facilitates a speedier recovery.
I think every mama looks for studio and class that is appropriate for her and feels like a good fit. There is a yoga studio home for every student regardless of level and/or experience.  Prenatal Yoga is a wonderful way to introduce yoga to your life… especially if you are new to yoga. When you are pregnant, it's easier to bring out the more nurturing aspects of the practice and develop a self care routine which serves mamas in the early weeks of motherhood.
Always check with health care provider before starting a prenatal yoga practice. Doctors and Midwives now routinely recommend that pregnant women take yoga classes with experienced, qualified teachers. When possible, if you are new to yoga, try a class with a prenatal certified yoga teacher that is specially geared toward the pregnant student. Listen to your body no matter what your fitness level and do not push or strive for flexibility/stamina/maximum anything. Hormones such as relaxin make the prenatal body already more flexible and joints can be vulnerable due to instability. There is no such thing as "a little bit pregnant" so trying a prenatal class in the early days and weeks is just as appropriate as 40+ weeks. Honor fatigue and don't push yourself!
Jessie received her 85-hour Prenatal Yoga Teacher Training from Bloom Yoga Studio, a leader in prenatal yoga education